2016 – A third pre- kiln dryer for the Oak Sawmill EUROCHENE - 05/09/2016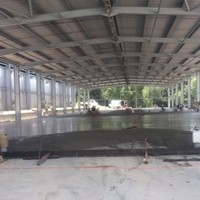 The Oak Sawmill EUROCHENE invested in 2016 and bought a third pre-kiln dryer.
This new equipment will allow us starting on pre-drying oak boules and beech boards very smoothly to preserve the original color of the wood.
The complementary volume of pre-kiln dried timber will be about 800 m3 of boules, selected unedged boards and beams.