How about integrating oak into modern architecture ? - 17/12/2019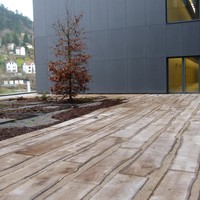 The use of oak in contemporary architecture is very effective.
In a modern building solid natural looking boards, made of French oak, give an interior courtyard a welcoming look.
Unedged boards which are attached to the ground are left untreated and the natural durability of oak makes it resistant to all weather conditions.
Eurochêne brings you its expertise and quality French oaks, selected from the forests of Franche-Comté and Burgundy.
Oak is also used for structural applications, in accordance with standard NF B52-002. For further information, check our website.