Boules and boards dried carefully - 21/06/2020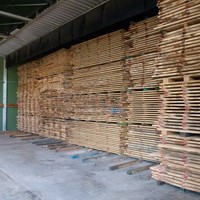 EUROCHENE Sawmill brings a particular care to the methods of drying, to satisfy the requirements of its customers, furniture and joinery manufacturers.
The practice of the air drying under shed is a real asset for pre-drying. The use of anti-stain sticks limits ungraceful colorings. Pre-driers ensure a progressive decrease of the humidity.
Kiln driers with variable ventilation allow the desired drying of oak boules, selected oak boards, by 12 % humidity. A very innovative vacuum drier allows handling thick thicknesses from 45 to 80mm. After drying, oak boules and boards are preserved in closed warehouses to keep this humidity percentage stable.