Eurochêne respects the elders: let's rebuild Notre-Dame together - 15/10/2021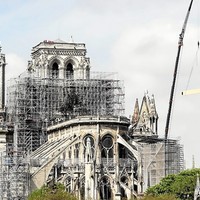 The Eurochêne sawmill, a specialist in French oak sawing, is a player in the rebirth of Notre-Dame.
Of the 2,000 oaks needed for the reconstruction of the framework of the Paris cathedral, 43 beams will be prepared in the Jura, in Saint-Lothain.
Their dimensions? For the largest 7.5 m in length, for a section of 35cm x 35cm.
When will they be ready to be implemented? The sawmill will take care of their natural drying, for a year.
Find the interview of young leaders on the following link : https://youtu.be/CxPgcvBegOo