Specialist of Burgundy Oak, established in the heart of Franche Comté, over an area of 100 000 m², of which 35 000 m² under cover, the sawmill Eurochêne offers:
---
Quality
Forest oak and beech logs selected according to the market and country-specific requirements, rapid execution at the sawmill in order to preserve the raw material;
Know-how
Sawing accuracy owing to a double-cutting band-saw with slabber, a Grecon with laser detection and digitally-controlled optimisation, experienced staff
Steaming for uniform coloration of planks
Pre-drying using specific anti-stain sticks
Vacuum drying technique with high capacity dryer adapted to greater thicknesses in addition to the tried and tested technique of variable ventilation drying
High accuracy planing and grooving with a good finish owing to a planing machine turning at 8 000 rpm
Heat treatment in ovens, increasing the natural durability of the wood
KEY FIGURES :
sawmill area
100 000 m2
under cover area
35 000 m2
planks in warehouses
15 000 m3
oak logs under water-sprinkling
5 000 m3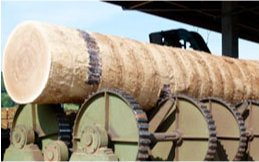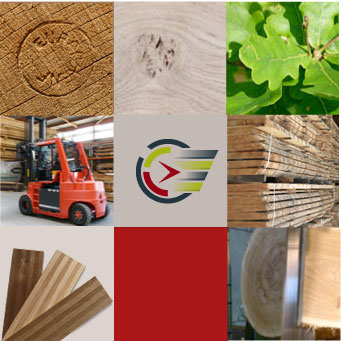 SERVICE : responsiveness of the marketing and production teams, development of new products, adherence to deadlines
STOCK : 15 000 m3 of planks (equivalent to 500 lorries) in warehouses, 5 000 m3 of oak logs preserved by water-sprinkling (equivalent to 200 lorries)
NATIONAL PRODUCTION : wood from French hardwood forests processed in France
TRACEABILITY : computer tracking with barcode from the forest to the final product, PEFC environmental certification
EXPERTISE : capacity to satisfy a non-standard request and activate the supply networks
EXTENSIVE PRODUCT OFFERING : a wide range of species (oak, beech, ash, sycamore maple, cherry, acacia), packaging tailored to various sectors from industrial to artisanal
ENVIRONMENTAL PROTECTION :
In the manufacturing processes: vegetable oil for cutting tools, exploitation of by-products, electric vehicles.
Bark recycling: biomass boiler using the bark, avoiding its transportation and the pollution induced, ensuring the heating of the workshops to improve working conditions.
Raw material management: the residues of boards transformed into chipwood, dried providing renewable energy for communal boilers.