Oak beams in a contemporary interior - 11/01/2022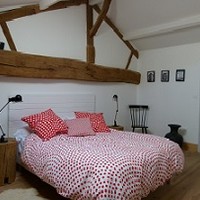 An oak structure or simple oak beams, left exposed, give authenticity and a natural look to your room. Oak is very suitable in a contemporary setting. It can also be used for tables, chairs, cabinets and bedside tables; This picture shows an oak block used as a bedside table.
Eurochêne, oak sawmills, produce oak beams from 1 to 15 meters long, all sections, in a choice of QP1/A. The beams are predried, either air dried or kiln dried.
Oak, a natural untreated product, provides a healthy environment in the home.