Ready-to-lay parquet
Floor boards
Dried solid oak, antique and rustic
Product presentation

Very old French oak, from mostly PEFC certified sustainably managed forests.
Square-edged timber from logs with signs of aging ensuring a uniform colour.
Dried strips with 10-12% moisture content, planed with tongue and groove on 4 sides, ready-to-lay.
Packaging: wrapped in plastic film and strapped.
Dimensions and quality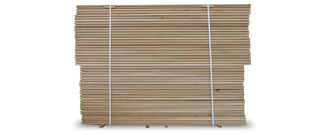 Presence of sound knots and features due to the age of the wood; old pinholes give real character with no future risk.
Use
Floor boards highlighting the real character of the wood with a rustic and antique aspect; also fits in with a modern interior.
Parquet to be glued or laid on dry joists or strips; for use on walls and open woodwork under roof (church for example).

Please note: the parquet must be stored at the right temperature and hydrometry before being laid


Minimum surface area: 200 m²


Click to view a larger image
---