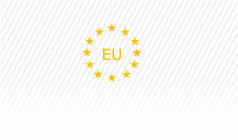 Qualities - Standards
A European standard EN 975-1 for the qualitative appearance grading of Oak and Beech
Eurochêne has been applying appearance grading since its establishment. The European standard EN 975-1, updated in 2009, determines the quality of sawn Oak and Beech according to the wood's features.
Each category of sawn timber is defined and has a specific designation.
This rigorous grading carried out by qualified operators ensures product homogeneity and compliance with specifications.
CE marking NF B 52-002 of Oak for structural applications
Eurochêne applies CE marking (in compliance with requirements) for sawn Oak for structural applications, in accordance with the European standard.
The wood is graded visually on the basis of its intrinsic features and matched to the various mechanical strength classes. The mechanical characteristics can thus be used directly for structural calculations by the users.
The CE marking is included on the label affixed to each stack.