Slow-growing French oak contributes to the fruity and woody bouquet of our wines
---
Eurochêne selects Oak logs from PEFC certified forests in Eastern France.
The grain and colour of the wood are thus suitable for casks used for vins de garde (wines for aging) and long-life tuns.
Traceability of origins are guaranteed.
The saw blades are cooled using natural food-grade vegetable oils.
Large casks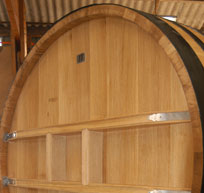 Products
Fairly straight boules with large dimensions; debarked and air-dried in a warehouse.