Eurochêne, a leader for oak square-edged boules available in large lengths - 05/10/2015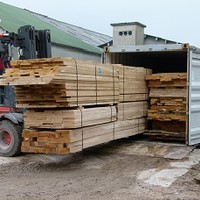 The square-edged boules made of French oak and beech wood are produced by Eurochêne, oak sawmill, from boules 3 to 6 meters long. Those in oak have a fine grain and homogenous colour.
The square-edged planks are obtained from dried boards which prevents warping.
The beams can be cut to different measurements and a truck load or container-load can contain a mix of dimensions, thus providing an additional choice to customers and optimal use of the wood.