The shore of Lake Geneva in French oak - 30/06/2016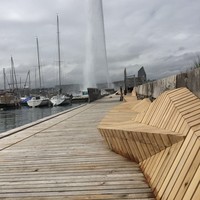 The City of Geneva became the flagship of French oak and products of the Sawmill EUROCHENE.
The lake's shore was fitted out with decking in French oak 80mm thick planed strips, in a natural quality presenting peculiarities and knots. The boards of oak were placed on a wooden structure. The width of the wooden pier varies from 2 to 4m; the strips of oak are of variable solid lengths.