EUROCHENE STAND D50 BIFAWOOD at Binh Dong (Vietnam) - 01/10/2018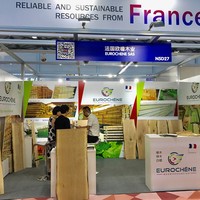 Fair BIFAWOOD will be held from 24 till 27 October 2018 in Vietnam.
EUROCHENE Oak Sawmill will exhibit the products reflecting its reputation: BOULES, SQUARE EDGED BOULES, selected PANELS, raw sawn but also dried, as well as DIMENSIONAL STOCKS cut from dried boards.
Specialist of French Oak of natural clear color, natural white or stewed unwarped Beech as well as brown Ash, EUROCHENE Sawmill has a permanent stock of 15 000 m3.
We can supply you very shortly.
Visit our Website: http://en.eurochene.com/
Visit us: STAND D50 BIFAWOOD at Binh Dong